TI-3D Facilities :
Automation & High Throughput Screening Facility
The Texas Institute for Drug and Diagnostics Development is currently bringing on-line an High Throughput Automation Facility. This facility has been established to foster drug discovery and development through the fully automated compound synthesis and (screening of commercial chemical libraries as well as in-house compounds. As a part of the Automation facility, the High Throughput Screening Facility (HTSF) is designed to be highly flexible in order to meet the needs of multiple investigators performing a variety of assays. In addition we aim to provide cost-effective and time-efficient access to high throughput screening technology across the iUT-Campus as well as off-campus users. The facility staff assists assay development and miniaturization, willl train users to use some of the instruments such as a microplate reader and liquid handling robot, and provide consultation for data analysis.
ACKNOWLEDGMENT:
Users of the High throughput screening facility are urged to acknowledge any work performed by this Facility in their publications. Our service is a scientific support, not just a technical. Please send a copy of your publications to facility director, Eun Jeong Cho. We will compile the publications and may use as supporting material in the future for grant application such as Shared Instrumentation Grant application.
1. Screening: "We thank The Texas Institute for Drug and Diagnostic Development (TI3D)-Automation and High Throughput Facility for their support on high-throughput screening and chemical libraries."
2. Instrument use: "We thank The Texas Institute for Drug and Diagnostic Development (TI3D)-Automation High Throughput Facility for the access to the (instrument/s)".
Instrumentation
Instrument Reservation
TI-3D users can reserve instruments from
TI3D Scheduler
. To reserve an instrument, you can log in and select the day and time you wish to use an instrument.
Screening Equipment
Perkin Elmer EnVision Microplate Reader (Website)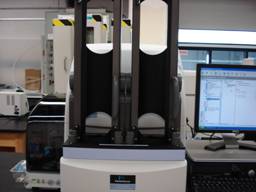 Application
General assay development utilizing various detection technology such as absorbance (UV-Vis), fluorescence intensity (FI), fluorescence polarization (FP), time-resolved fluorescence (TRF), luminescence (Lum), and Alphascreen.
Specs
User-changeable label-specific optical mirror modules and filters
Superior detection sensitivity and high measurement speed (< 1 min for 1536-well plate with one flash/well)
1-1536 well microplate reading capability from bottom or top
Endpoint, kinetic, spectrum and well-area scanning read types
Temperature controlled (4-45°C)
Manual or automated serial plate reading via integrated plate stacker holding 50 plates
Perkin Elmer MicroBeta TriLux Microplate Scintillation and Luminescence Counter*(Website)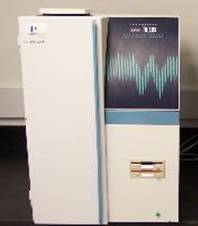 Application
Specific for radioactive assay utilizing liquid scintillation or luminescence detection.
Specs
Samples in microplates, tubes or on filters
Sample capacitites of up to 16 or 32 plates
Updated model is fitted with an external loading platform for fully automatic loading by robot systems
* Located in BME 6.328B
Jasco J-815 CD Spectrometer (Website)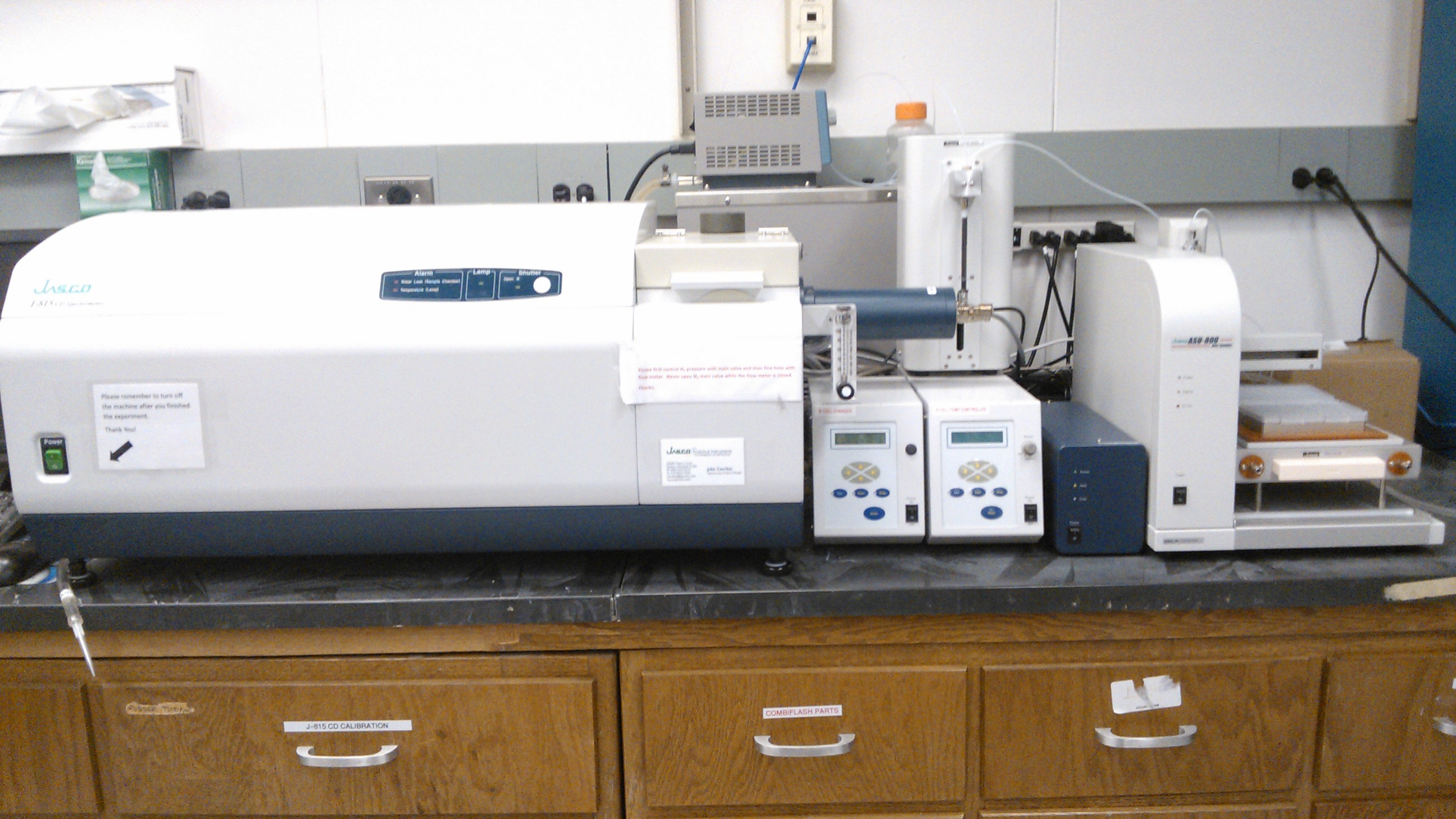 Application
Specific for assay development for optically active biological molecules (type of sugar or amino acid) and secondary structure of macromolecules to analyze for activity.
Specs
Circular dichroism (CD) and UV-Vis absorbance (standard)
Measurement ranges from 163-900 nm, 1100 nm optional
6-cell Petier thermoelectric temperature control for simultaneous Tm measurement of upto 6 samples (6-90°C)
Fluorescence accessory to measure fluorescence simultaneously
High throughput, temperature regulated automated sampling of up to 192 samples including thermal ramping and sample recovery capabilities
Liquid Handling Equipment
Perkin Elmer Janus Workstation (Website)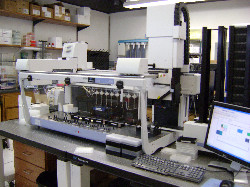 Application
Laboratory automation workstation that performs versatile liquid handling tasks. Main task will be plate reformatting, large scale assay plating, and cherry picking.
Specs
Pipette tools consisted with 8-tip varispan and 96/384 multi-channel can transfer from 0.5 µL to 1 mL with high precision
Integrated stacker carousel can provide external supply and storage of microplates (50 plates), deepwell plates, and P20 and P250 pipette tips
Faster throughput achieved with multichannel tools
Flexible with easy adaptation of any labwares or tips
Art Robbins Instruments Phoenix (Website)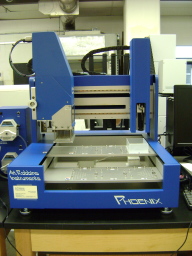 Application
Laboratory automation workstation specific for low volume (< 1 µL) liquid handling tasks. Main task will be library transferring and assay plate formation.
Specs
Simultaneous dispensing equipped with fixed 384 syringe head module and a single channel dispenser.
Fast liquid transferring speed (< 1 min) with a single channel head to 96 well plates.
Transfer liquids from 384-microwell source plates to 384/1536-microwell destination plates with very high accuracy from 100 nL to 100 µL.
9 deck positions are available for plates and washing stations.
BioTek Microflo Select (Website)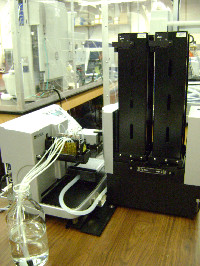 Application
Self contained, user programmable dispenser machine that dispenses a wide variety of liquids to microwell plates.
Specs
Contains a peristaltic pump with eight individual tubes which transfer liquids from a supply bottle to various microwell plates.
Able to dispense volumes from 1 to 9999 µl using one of 3 cassettes.
Cassette sizes are 1 µl, 5 µl, and 10 µl.
Plate stackers are able to hold up to 30 plates each (input and output).
Standard carrier is able to accommodate 6-, 12-, 48-, 96-, 384-, and 1536-well plates that comply with SBS microplate standards.
Able to dispense a variety of solutions including buffered saline and reagent solutions.
Can store up to 99 dispense protocols.
Location & Contact
Mailing Address
The University of Texas at Austin
1 University Station
Austin, TX 78712
Mail Code: A5300
Lab Location
The University of Texas at Austin
Robert A. Welch Hall
Room 3.316
Lab Phone: (512) 471-5485


Map on Campus




Google Map

Contact


Dr. Eun Jeong Cho


1 University Station
Austin, TX 78712
Mail Code: A5300
Office Phone: (512) 471-5507
Office Location: WEL 3.310