TI-3D Facilities :
Automation & High Throughput Screening Facility
The compound screening core has been renamed as TTDDDP, "

Targeted Therapeutic Drug Discovery and Development Program

" and further details can be found @ http://sites.utexas.edu/ttdddp/.
The Texas Institute for Drug and Diagnostics Development is currently bringing on-line an High Throughput Automation Facility. This facility has been established to foster drug discovery and development through the fully automated compound synthesis and (screening of commercial chemical libraries as well as in-house compounds. As a part of the Automation facility, the High Throughput Screening Facility (HTSF) is designed to be highly flexible in order to meet the needs of multiple investigators performing a variety of assays. In addition we aim to provide cost-effective and time-efficient access to high throughput screening technology across the iUT-Campus as well as off-campus users. The facility staff assists assay development and miniaturization, willl train users to use some of the instruments such as a microplate reader and liquid handling robot, and provide consultation for data analysis.
Synthesis Equipment
CEM Explorer 48 Automated Microrave Synthesizer (Website)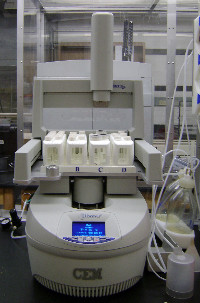 Description
Many reactions which require forcing conditions (high temperatures and reaction times) can benefit greatly from microwave irradiation. The Explorer 48 is easily programmed to automatically run up to 48 reactions in sequence, using 4- 10- or 35- mL reaction vials.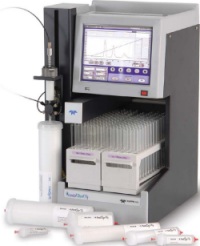 Description
A flash chromatography system with a 200-780 nm UV/Vis-variable wavelength PDA detector. Operating pressure capability of 200 PSI for reversed phase flash chromatography. Radio Frequency Identification technology to identify the columns & collection racks, eliminate errors, streamlines programming, and provides additional safety features by automatically setting pressure limits & fill levels. Automated, self-cleaning injection valve. Level sensing for inlets and waste container, vapor detection, and secondary containment of solvents and waste overflow prevention
Dionex Ultimate 3000 HPLC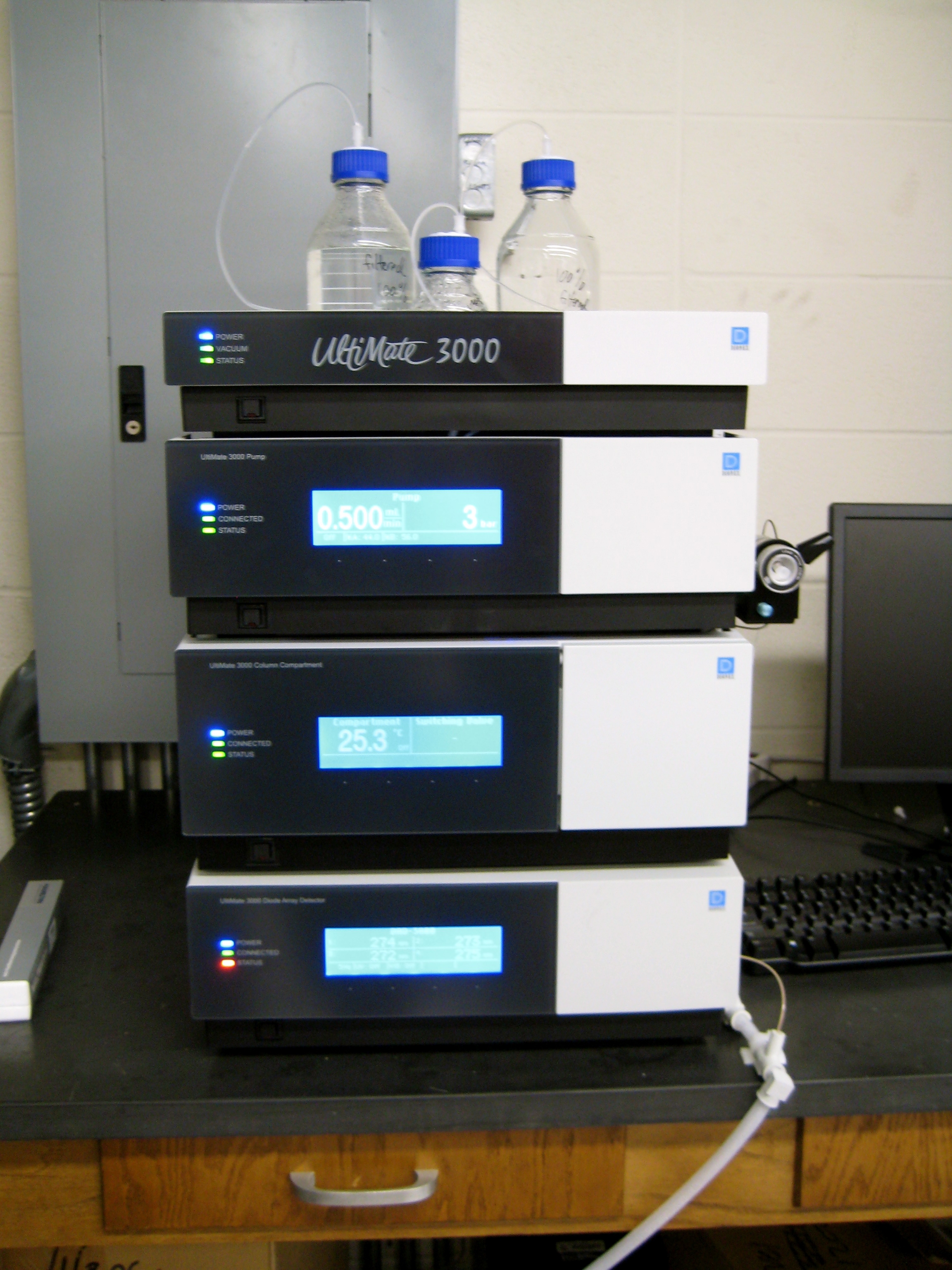 Description
Analytical HPLC system, a 3 µm C18 column (4.6 x 150 mm) for reverse phase applications. UV-vis detection by a PDA (190-800nm). Temperature-controlled column compartment (rt-45C) and solvent degasser. Two mobile phase mixing. Sample introduction is accomplished through autosampler. Variable combination of sample containers are applicable (3 racks, each rack can hold 1.8, 2, or 10mL vial, 96 or 384well microwell), suitable pressure up to 7000psi, sample injection volume of up to 100uL
Agilent 1200 Series HPLC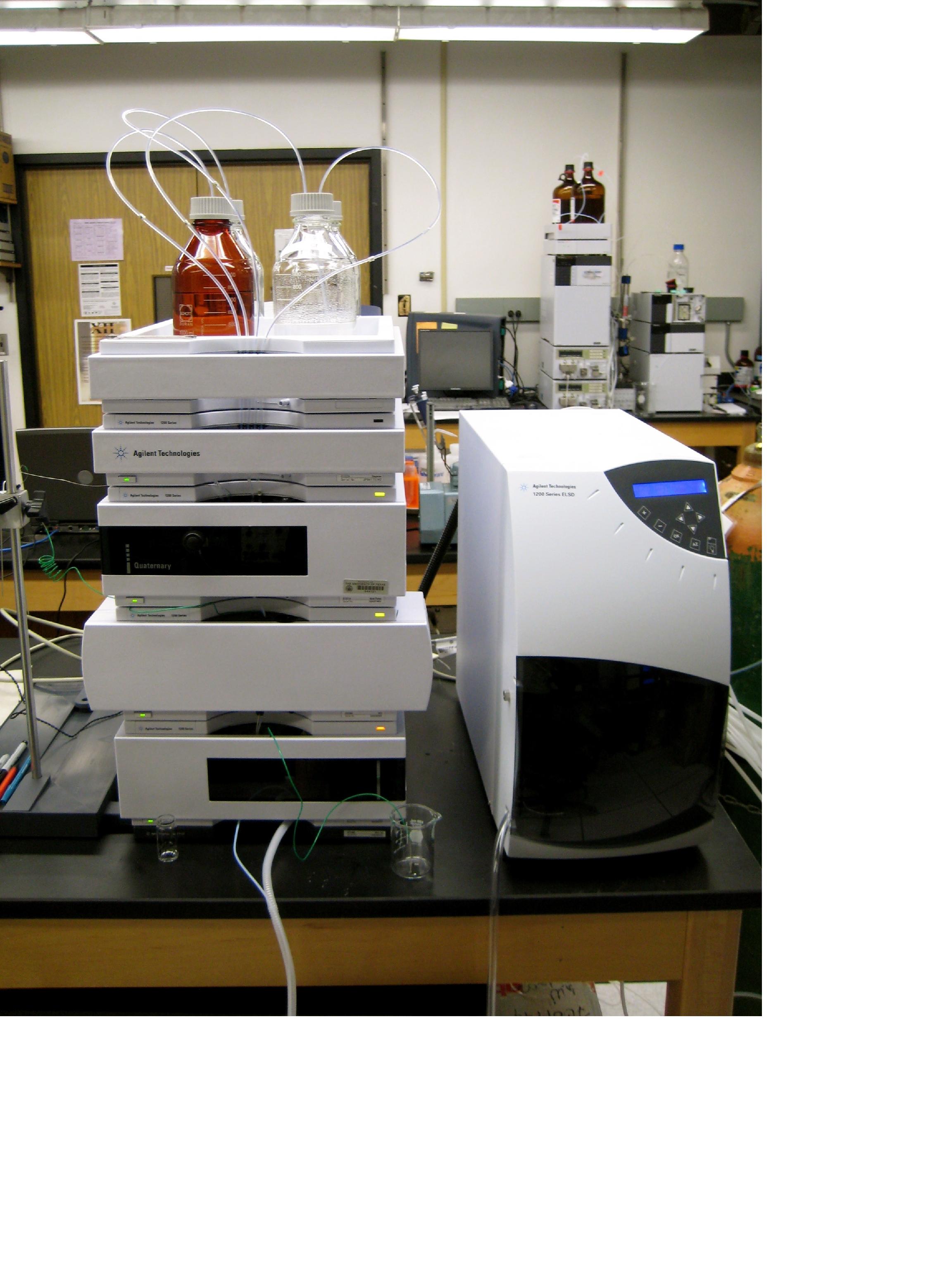 Description
The Agilent LC system features a quaternary pump that provides mixing of up to four solvents and flow rates up to 10 mL/min. A 5 µm C18 column (4.6 x 150 mm) is connected for analytical, reverse-phase separations. The system is equipped with two detectors: a variable wavelength detector capable of monitoring a single wavelength between 190-600 nm and an evaporative light scattering detector (ELSD) that provides universal detection independent of an analyte's absorbance profile. A temperature-controlled column compartment and solvent degasser are also available, and sample introduction is accomplished through the use of a manual injector and a 20 µL sample loop.
Shimadzu analytical and preparative HPLC systems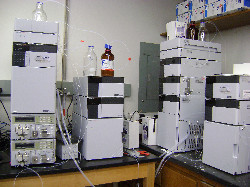 Description
Two custom designed Shimadzu HPLC systems for high throughput analytical and preparative work. Both systems have cooled autosamplers with adjustable configuration for either two 96-well plates, or up to 70 standard HPLC vials, automated eight-solvent and six-column switching and PDA detectors (190-800nm). Both systems are also enabled with dual rack 3.5 ml x 70 tube fraction collection racks. The preparative system pumps can deliver up to 20 ml/minute and the preparative collection system can also be modified for large volume fraction collection.
Genevac DD-4 centrifugal evaporator

Description
Conveniently removes both low- and high-boiling solvents (including DMSO) from test-tubes (e.g. generated by MiniBlock or prep. HPLC purifications) and microtiter plates.
.
Thermo-Electron/Finnigan LTQ XL LC-MS (Website)*

Description
*Services are provided through Department of Chemistry, Mass Spectrometry Facility.
Mailing Address
The University of Texas at Austin
1 University Station
Austin, TX 78712
Mail Code: A5300
Lab Location
The University of Texas at Austin
Robert A. Welch Hall
Room 3.316
Lab Phone: (512) 471-5485


Map on Campus




Google Map